Water Billing @ SoftOne
Water Billing @ SoftOne
After decades of experience working with municipalities, we found that many cities are stuck using outdated water billing software! With that in mind, we set out to offer modern water billing software at a price affordable to any city.
Our Water Billing Software, is based and developed on SoftOne's Business Explorer.
Description
Features that make Water Billing @ SoftOne an easy and efficient water billing software:
Features
Track usage of single meters
Warehouse, accounting, budget, online updates.
Supplies – Diavgeia – Commissioner – CPV
Readings from old and new meters onto one water bill.
Electronic archiving of records
Built in Auto Billing System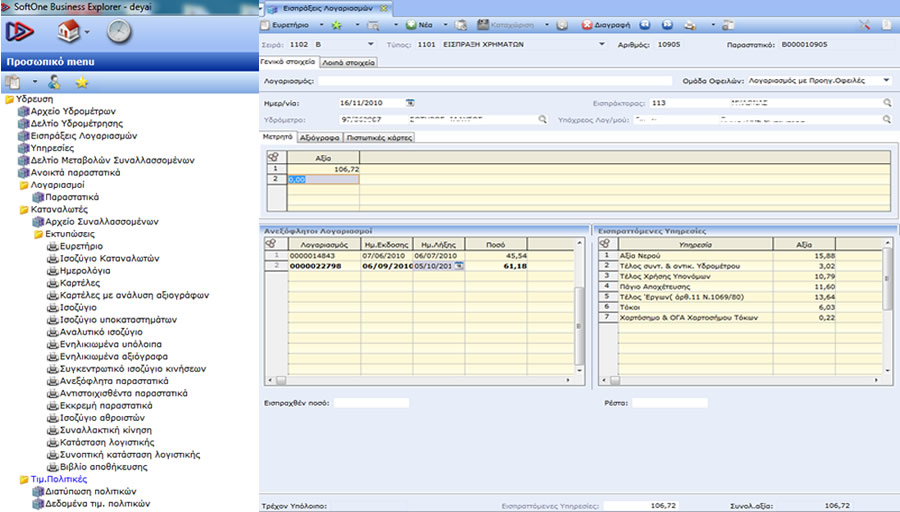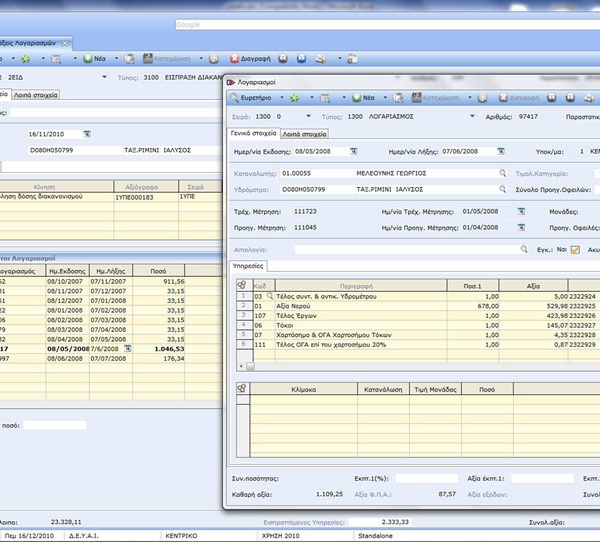 Description
Hydrometer Management
Custom Defined Indexes, Change History & Calculation Parameters. Hydrometer tab for each account, Easily manage hydrometer measurement tab.
Automatic Hydrometer Mapping
Automatic recording of hydrometer coordinates during the recording of the new measurement, as well as picture shooting, video capture, voice recording.
Purchasing Management
Diavgeia – Commissioner – CPV (International Coding of Species).
Customer Management
Parametrically Defined Indexes, Aggregate and Analytical Tabs per Consumer / Hydrometer, Balances, Balance Sheets. Unified File of Trusted Accounts, Owners, Hirers.
Measuring Lists per Route and Hydrometer – Accounts
Automatic calculation of charges, billing, interest, surcharges, etc. Issuance of Credit & Void Notes.
Automatic warehouse – accounting – budget update
By registering the Invoice.
Electronic archiving of supporting documents
Attached to the consumer's card and accessible from all points of service to authorized users.
Proceeds
Automatically find outstanding accounts per charge group.
Multi way payments (Cash, Check, Credit Card, Remittance, Payout etc.)
Barcode assigned Invoices
Receipt of any amount by automatic allocation to FIFO.
Settlements
Automatic installment calculation, installment overdue reminder.
Settlement tracking tab.
Prices and Pricing Policies
Custon defined  system for price management, control and approvals. Analytical price records by type of service, price category. Charges History.
On Line update of General Accounting and Public Accounting from all issued  invoices.
View and print invoices from Internet – Build in meter reading app – On-line payments.
Send Invoices via email
Invoice Analysis