Hotel Management System
Hotel @ SoftOne is an advanced, Multilanguage and solid hotel management solution with over 10 fully integrated modules, in a robust and flexible database. Ideal for small and large hotels (Chain hotels, Resorts, City hotels, Boutique hotels, Apartments, Villas, Rooms for rent). Its usability and functionality make it possible to increase operator efficiency and improve customer service.
Front Office Operations
Hotel @ SoftOne is designed to provide you an effective tool to easily manage all hotel's work in a central environment.
Designed to provide you an effective tool to easily manage all hotel's work in a central environment.
It offers uninterruptible integration with other modules, Sales and Catering, Food  & Beverages, Maintenance tasks, Housekeeping, Spa & Event Management.
The unique user interface provides you clear screens & simplicity clicks, ensuring that it is easy to use for new and experienced users.
Access to all modules via local network or over the Internet.
Bi-directional real-time communications with many Global Distribution Systems (GDSs) (Call Centers, Electromagnetic Locks, Channel Management, E-Billing, etc.).
Client / server environment, powered by MS SQL Server.
Multi-Property Management
The Multi-Property mode is a powerful hotel chain solution.
You own one or more hotels? Hotel @ SoftOne Multi-Property provides you, proven features and capabilities that give you unprecedented management control of your business.
Reservations, contracts, maintenance and housekeeping management within the entire group of hotels. Controlled access to users in one or all hotels, depending on their authorization level.
The implementation on a single database server, means large hardware savings, network management, software licenses savings, better and faster support. (You may also use the cloud version)
Availability and forecast  statistics for all hotels, gives your business the perfect organization of centralized booking management.
The sales team has very strong opinion, with all the real-time information available in every detail.
The customer history is available in all the hotels of group.
View each hotel's reports individually or the summary of all hotels.
Features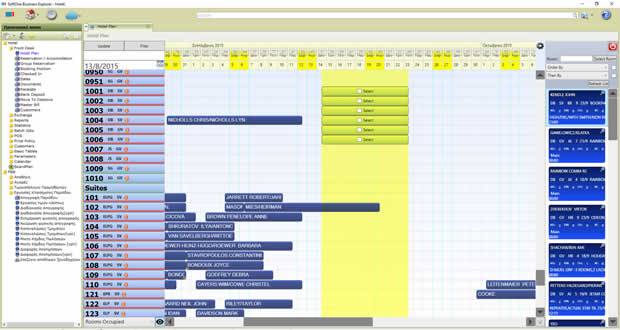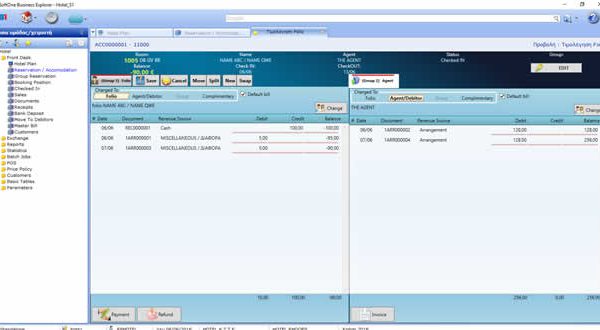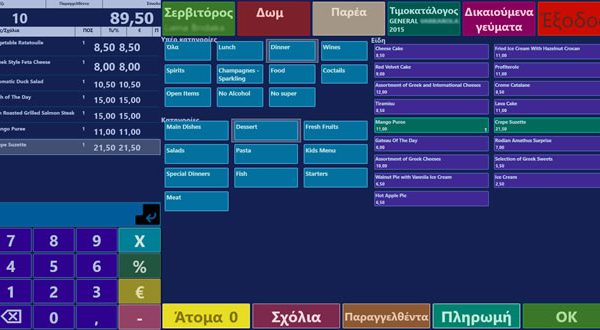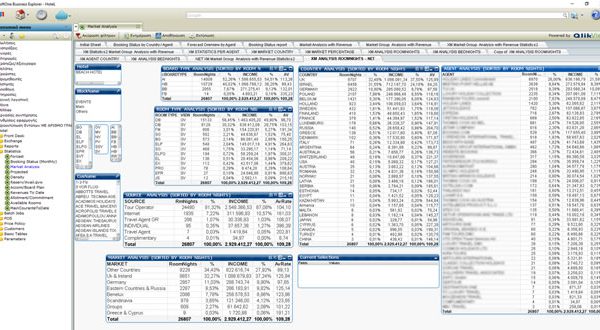 Front Office - Hotel Management
Agreements
Contract formulations may be uniform throughout the year, or limited to special pricing policies or seasonal prices that vary, depending on the season.
Just one contract per agent. (Covers all price lists, discounts, special offers).
Handy and stylish creation of periods with different releases (depending on the period).
Create combinations (room, view and board type) with price per person or room, Allotment / Commitment / Over Commitment. Ability of different price for exactly the same room/view/board combination.
Customization by Pax type (percentage discounts for Extra Beds, 1st & 2nd children, infants, etc.). Special rates for specific combinations of Pax types.
Early booking discounts, 7 = 6, Special offers, or any combination of these with automatic calculation, or user defined sequence, of any combination.)
Settlement of contract billing (agents, folio, companies)
Booking Engine
Real-time reservation with accurate rates and availability.
Fully customizable reservation (ability to adjust a pricelist)
Analysis of charges per day and Pax.
Automated daily charging system (room type upgrade, newspaper, air conditioner etc.)
Room allocation manually or automatically (room type based).
Automated categorization of reservation (via agent) or by choice. (Nationality, VIP, etc.)
Passport or ID scan (OCR)
Configuration of entitled meals, exceptions (e.g. breakfast on arrival or lunch on departure)
Automated book engine module (booking.com, expedia,etc)
Room Plan
Customized hotel plan elegant, with descriptions and features of each room.
Room features (view, floor) and facilities (tiles, bathtub, twin bed, carpet etc.)
Create reservations directly on hotel plan, details with 1 click.
Check-in, check-out, sales, customer records, 1-click booking details, Supply & Return items, Invoicing.
Easy room change/transfer.
Upselling with automatic price difference calculation.
Arrivals & departures lists (by room type, agent, reservation names, etc.)
Manage housekeeping & maintenance.
Housekeeping
Allows the user to enter and monitor the information required to manage the hotel's cleanliness.
Current condition for each room.
Automatically or manually updating the room status.
View available and occupied rooms.
Room groups for housekeeping lists.
Reports for all or selected rooms, cleaning assignments, condition deviations, out of order rooms.
Spa & Activities
Planning based on the type of treatment, service, time or room. Allows operators to customize their sessions.
Room charges, as well as cash or card payment.
Customer's Health history and preferences.
Customer statistics that can be used for marketing campaigns.
Individual accounts can be created for external customers.
Retail & POS
Easy to use, easy to navigate, touch screen. Customizable screens to your requirements, quick selection keys allow staff to access frequently-saled items. One touch for quick discounts, splitting bills, refunds, etc.
Automatically adjust to POS (synchronization of price lists, printers, etc.)
Shift opening and closing, waiter selection.
General & special price lists.
Price list selection when ordering (regular, reduced, maison etc.)
Different prices for events, happy hour, etc.
Tables (duration, receipt, payment)
Print orders on selected printers. (Food orders can be printed directly in the kitchen (hot or cold), drinks orders can be printed directly at the bar.)
Payments by cash, credit card or room charge.
Issue of receipt (partial or total), Payment (partial or total).
Maintenance
Tasks, maintenance schedule for rooms and hotel areas.
Insert tasks directly on hotel plan.
Tasks categories & subcategories.
Direct task assignment to the responsible employee.
Task status update.
Tasks status reports. (Started, in progress, unable to repair, completed).
Lists by status, by task type , by employee. Tasks statistics.
Batch Jobs
Batch processes
Arrangement charges.
Agent invoices

Per agent, with or without bundling (date of arrival and departure, departure date) or invoice for each booking individually
Selective invoicing
Night Auditing (with pre-check) :

Check arrivals
Check departures
Check pending room charges (POS)
Check accommodation charges
Check Agent Invoices
Reception book printing procedures (optional)
Front Office Reports & Statistics
 Reports
Reports for correct and complete information
Arrivals, departures, Guest in house lists.
Housekeeping.
Customers list (birthday lists, etc.).
Call center reports (Management, Rooms).
Folio & Grouped Folio balance.
Main courante
Statistics
Full statistical update
Forecast – by agent, sub-agent, group, origin, by individuals and board analysis
Booking status – Pax nights and rooms nights per agent per day. A comparison of room nights, Pax and income, current to last year.
Market Analysis – stays, per country, average room rates and Pax rates. Revenue forecast (Allotment, Commitment, Over commitment & Supplement).
Projected – Real (to hotel date) and upcoming (reservations-based) revenues.
Density – Reservations per day (number of bookings and revenues per agent and month).
Reservations & Availability – Reservations per day, per room type. Facilities by room type. Availability (chart). Allotment, commitment and expected commitment reservations
Accommodation & Board Plan – Arrivals, Departures, Stay. Room occupancy. Board plan, (breakfast, meal, dinner).
Revenues based only on contracts (no reservations required)
Revenues to date – Comparison of revenues by POS, previous – current year to a specific date.
Main courante to date – Compare main courante, previous – current year to a specific date. (with VAT breakdown and deviations)
Allotment, Commitment – Booking provision, guarantee, booking position and occupancy, including all or selected reservation types.
Room Availability – Occupancy and availability plan.
Housekeeping – Room cleaning plan, individually or in groups, with clean-type analysis (full, sheets, etc.)
Manager report – Revenue comparison by cost center and POS, previous – current year to specific date and percentage changes.
ΕΟΤ – GNTO model (Rooms, adults, children, income, average income, percentage of persons – by country of origin)